---
Not very often, but it happens. You could get lucky and discover the truth really fast. A cheating partner is more likely to delete all the text messages before coming home. Therefore, you should use a mobile phone tracking tool to monitor sent and received text messages. PanSpy is such a professional and versatile mobile phone monitoring tool that works well over Android and iOS devices.
With the help of this mobile phone tracker, you are able to remotely view a complete record of all sent and received SMS on a monitored phone.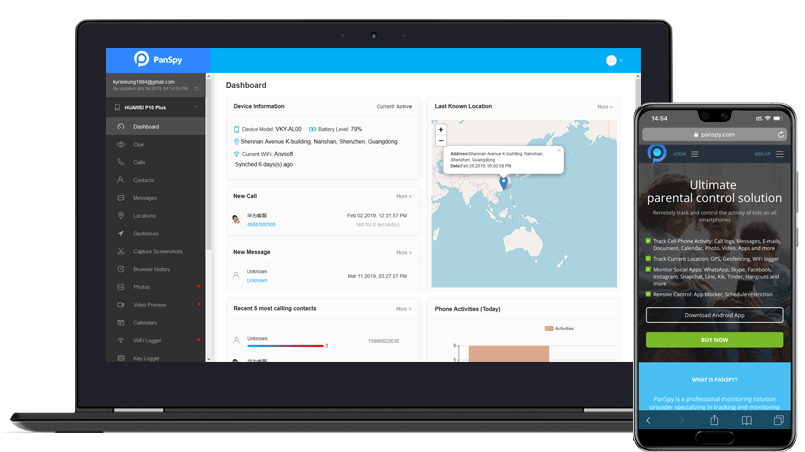 Firstly, create a PanSpy account by clicking the Sign Up option on the top right corner of this page. Then, enter your authentic email address and make the password for it. After that, PanSpy will send you a confirmation link. Simply navigate to your Email address, tap the link to activate your account. Then follow the Setup Wizard to complete the following setup process. Choose the operating system that is running on the target device. Here, we are selecting Android. Currently, there are two editions: Premium Edition, Ultimate Edition available.
Both editions support for 1-month subscription, quarter subscription and 1-year subscription, you can check the pricing details here. Simply select a subscription you need and move on. At last, you can see a control panel on your computer. After successfully subscribed the service, you will get a download link, simply download and setup the PanSpy app on the target phone.
Login in with your PanSpy account and authorize PanSpy to access data on the monitored mobile phone according to the instructions.
How to Catch Someone Cheating on Facebook (% Works!)
Then, you can choose to remove the app icon or keep it on the homescreen. Please, make sure you trust a professional cellphone tracking application to catch a cheating spouse text messages and chats. I am sure the application I recommend on this page will help you put in your hands all the information you need, while keeping this adventure a secret. Catching a cheating spouse texting on an iPhone in is easier than you think.
Part 1. How to Free Catch Cheating Spouse Text Messages
If you are not sure what that means, I am glad, is a painful, long and risky process to be able to install third-party apps apps not present on the AppStore like the tracking software. You will be able to review all text messages, WhatsApp chats, Wi-Fi locations, contacts, phone calls and much more from your control panel. I hope this article helps you understand how to start capturing and reading text messages and chats from a cellphone.
But not only that, with a complete tracking app like this one, you will be able to track your partner iPhone location , and also the location of an Android smartphone using GPS.
How to Check Text Messages without Touching the Phone?
Is a problem I had many years ago, and like I said before, I wished there was a professional monitoring application at that time able to capture all the information I needed to discover the truth. Nowadays is very easy to capture text messages and chats from cellphones like Android and iPhone.
Well, is easy if you are using the best application to track and spy on these messages. If you decide to save a dollar every day and find another method, then it might not be that easy, and could be even dangerous. You did great finding and reading this article thanks BTW , now take the next step.
Now you know how to catch a cheating spouse texting in using a perfect solution, go ahead and take the next step, visit the information pages and start reading those messages today. Thanks for answering all my questions about this spy app.
zansodissori.ml/a-romaria-dos-incautos-literatura.php It really captures all text messages? What happen s if my X deletes the messages before I get to see these. Hello Michael, yes, it captures all text messages, even if the user deletes the messages from memory, you will have a copy waiting to be review.
Catch Cheating Spouses in the Act (of Texting their Mystery Lover)
Thanks for your question. Your email address will not be published.
This site uses Akismet to reduce spam. I did use another solution to catch cheaters texting, but I wish I had access to the solution I will show you in this article. If you want to read about the solution right away, please click here to jump to the solution I recommend to catch a cheating spouse texting and messaging.
"Texting Spy Recorder " Keep a eye on what your teen being text or Catch that Cheating Spouse
This is probably one of the first questions you came up with after suspecting something was just not right in your relationship. Because when someone needs to hide something, that person learns really quickly every trick in the book to hide and disappear every single clue from the cellphone.
Some of the features are as-. Stealth mode : Additionally, you can use Spyic in stealth mode, both in Android and iOS: for the former, you just need to hide the icon after installing the app in the target phone not on yours! You will be able to search through many different kinds of information that goes through the cellphone, for example: text messages, WhatsApp chats, Facebook updates, location by GPS, phone calls, emails, photos and videos, contact list, list of visited web pages and many more. No one should take advantage of your goodwill and trusting nature, so leave it to the experts to find all the evidence you may need. If you wish to retrieve deleted messages from a mobile phone, you are welcome to try these tools for Free.
Deleting text messages is not difficult , and this little step can hide the truth from most of us. Cleaning all cellphone cache, as well as the cellphone history logs is not difficult either , and in most cases, the user will successfully hide all clues of any wrongdoing.
Top 10 Effective Ways to Catch Up a Cheater Red-Handed - kategevaty.ml;
How to Catch a Cheating Spouse Texting Effortlessly?;
cell phone spy software for iphone 5.
Maybe you are lucky and are able to take a peek at a text message you were not supposed to see. Not very often, but it happens. You could get lucky and discover the truth really fast. To catch a cheating spouse texting, or read any message he or she forgot to erase is almost impossible. The worst part is that it will require patience and time, and really, who wants to wait to find the truth?
How to Catch Someone Cheating on Facebook
Cheaters learn to be careful about text messages and chats that can be compromising. If that happens you will know that not only you were not able to find the truth, now you have a new big problem trying to explain your behavior and the cheating tracker. Choosing the best application to spy a cheater gives you many benefits like for example:. I hope that by now you have a better idea what my solution to catch a cheating spouse texting is using a cellphone tracking app and why do you need one. If you want to catch cheaters texting, you basically are going to need the best cellphone tracking app and the cheapest to find the truth in just minutes and without any issues.
This is where this part of the article gets separated depending on the model of the cellphone you want to track. It is not important what is YOUR cellphone model, it only matters the model of the cellphone you want to spy. To be able to capture all text messages sent and received on an Android you need to have access to the Android smartphone. The way the Android operating system works does not allow for remote tracking of the text messaging or any other functions.